Instant Play Poker Rooms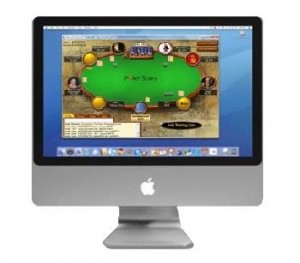 When online poker rooms first appeared on the Internet, there were few options for players that did not wish to download the poker software on their computer. For Mac and Linux users, it was nearly impossible to play at online poker rooms because the download file was only available as an executable (.exe), which is not recognized by such operating systems. Few poker rooms offered Mac downloads and the ones that did catered only to Mac players, leaving Windows users sitting out.
The availability of online poker rooms was also a problem before instant play emerged. As the software had to be downloaded, only computers that the player owned could host the software. Playing at a library or work was not possible. This, in turn, adversely affected the web site traffic at poker rooms. With players needing to play poker online only when they were at their own computer that had the software downloaded, the amount of poker that could be played online each day was much lower than it is today.
However, the development of Flash changed the way online poker rooms were handled. Many poker rooms began to offer poker software that could be played directly on the web site. This not only opened the poker room up to all three major operating systems but it allowed players to experience the poker room at a computer that was not their own. By simply entering their account information a any computer, they could get the same poker experience as they could from their home computer.
Although the trend is quickly beginning to change, it is true that Flash based no download poker rooms tend to have less features and games than the downloaded version of the poker room. For this reason, most poker rooms recommend downloading the software if possible. However, all major poker rooms offer the most important features in their no download poker software for players that do not wish to add additional applications to their computer. For older computers that do not meet the minimum system requirements for the software download, instant play poker rooms can also provide a viable solution.
Below you will find a list of the best no download poker rooms on the Internet today. When you visit one of these poker rooms, you can be sure that their instant play games are as close as possible to the downloaded software available at the web site.
Unfortunately, there are no "Instant Play US Poker Rooms". Please check our US Mac poker page for a list of US friendly sites you can play on your Mac.
Playing at a no download poker room is as easy as choosing the option to instant play rather than clicking on Download Now or another similar option. When you choose to play instantly, you will immediately be taken to a registration page where you enter your personal information and choose a payment option to make a deposit. After that, you will be able to play at the poker room instantly by simply logging in to the web site.
Instant play poker software, contrary to popular belief, is just as fast as downloaded software. In fact, the only major differences lie in the game offering and some graphical features. These differences allow flash poker rooms to function just as quickly as downloaded software. The speed at which you can access your favorite poker room is a trade off for the small lack of features and graphics.