Pacific Poker Review for Mac Users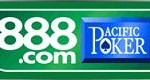 Pacific Poker is a popular online poker room for those who want to enjoy variety in the game of poker. The site - which is also known as 888 - has made it very known that they are on a mission to provide poker players with the best online poker experience in the world. To try and uphold this mission, the room itself provides their players with the best games available in Hold'em, Stud, and Omaha. Their tournament schedules also offer very
Pacific Poker has also added several upgrades to their website to keep up with other online poker rooms. The user options at Pacific Poker have been updated to include a redesigned lobby, 3D avatars and the ability for players to customize their game. Their revamped software and 100% deposit bonus are just some of the reasons why more and more players have been flocking to Pacific Poker.
[Download Pacific Poker Today]
Pacific Poker Mac Software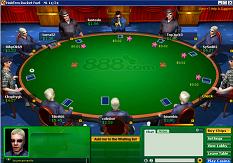 The Pacific Poker Mac Software download offers players the same great features that PC users are able to access. Players will find several guides included in the software that shows players how to use the Main Lobby which offers information like previewing tables and one-click filters to make your game customizable to your needs and standards. it is hands-down one of the best poker sites to play on a Mac out there right now - ESPECIALLY since their recent upgrades to the platform in recent years.
The software also allows players to control the poker table. Players can read stats, player notes, use pre-action buttons and clear action buttons. Players can also choose the table layout and other customizable features. Pacific Poker is constantly making upgrades and players can download the software at any time and check out the new upgrades that have been made to the software.
Pacific Poker Bonus
Pacific Poker has many bonuses that are currently available for players to take advantage of. New players will find a welcome bonus where they can earn 100% back on a deposit of up to $400. The cool thing about this bonus is that players get twenty five percent of the bonus instantly. There is also a first depositor's free roll. Players are instantly entered to win $3,500 once they make their first deposit.
Frequent Player Points is a great way for players to earn extra cash while playing the games they love. Players can earn Frequent Player Points by playing in games and tournaments. For every 100 FPP's you earn you are rewarded $1.
Pacific Poker Games Selection
Pacific Poker offers players eight card games on their website. Ring Games, Texas Hold'em, Seven Card Stud, Seven Card Stud Hi/Lo, Omaha Hi, Omaha Hi/Lo, No Limit and Pot Limit Games are available when the software is downloaded at Pacific Poker.
There are two types of tournaments available on Pacific Poker: Sit and Go and Multi Table tournaments. Different tournaments have different prize pool structures as well as rebuy and add-on selections.
Every game on Pacific Poker has different wager limits so you will need to check the game you are about to play before you begin. Stakes begin at a minimum of 1 cent and can go as high as $500 per hand.
Pacific Poker Promotions and Events
Players will find that playing at Pacific Poker has its advantages. The poker room offers promotions throughout the year to their players to help them earn more money. The website currently has a $1,000 Depositors free roll taking place for those who deposit one grand. They will be entered into a free roll automatically.
Pacific Poker also offers Double or Nothing tournaments where half the players at the poker table double their money, a cool way to amp up your poker game and double your cash in a more efficient way. In addition, if you like the high life, players can also enter the $100,000 Deep Stack Challenge or try their luck in the daily $20,000 guaranteed tournament. This tournament takes place six days a week and can be accessed easily right from the tournament page.
Pacific Poker also offers players the chance to win seats to the best live poker tournaments available. Players can win seats to 888 Poker Masters, the Irish Poker Open, and of course the World Series of Poker.
Customer Service
Players will find that their questions will be quickly answered at Pacific Poker. If you cannot find an answer in the FAQ's then you can access the live chat that is available 24/7 or you may call toll free numbers. Players can also choose to email with any questions you may have.
Deposit and Withdrawal Methods
Pacific Poker offers several methods of deposit on their website. Players can choose to deposit via the following methods: Credit/Charge Cards, Debit Cards, Bank Transfer, E-check, PayPoint Invoice, Wire Transfers, INSTADEBIT, various E-Wallets and various PrePaid Cards. Players will be able to cash out using the same method they deposit.